patna,(bihartimes): patna university (pu) vice-chancellor shambhu nath singh was on saturday allegedly manhandled by some students while he was on his way to office. reports said the bodyguard of the vice chancellor had to pull out his pistol to rescue him.
an fir was lodged against eight students. they were said to be the activists of the all india studens federation (aisf). however, aisf denies the allegation.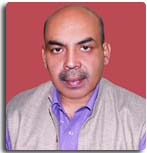 it all started after police tried to remove four pu students, who were on indefinite hunger strike on the campus for the last nine days in protest against the expulsion of gopal kumar, a iiird year student of college of arts and crafts and the poor condition of university hostel.
reports said that the vc was roughed up on the staircase at about 1 pm. there was bleeding from his right ear after the incident. however, no arrest has so far been made.
a senior pu official said they did not have any problem with the agitating students but from outsiders, who caused trouble. the teachers are under constant threat and if the situation does not improve, the authorities would be forced to close the university.
according to an aisf leader vishwajit, whose name figured in the fir, the condition of four students on hunger strike started deteriorating in the morning.
since 11 am the police and doctors were trying to take the students away. he said the students were busy convincing them to let continue the fast. during the chaos, the vc entered the building to reach his office and an unknown boy attacked him. none of the aisf member knows the attacker but the pu authorities conspired against the aisf and named it in the fir, vishwajit said.
fir has been lodged against vishwajeet, sushil kumar, anshumaan, mahesh kumar, anish kumar, nikhil kumar jha, anshu kumari and gopal kumar. the pu administration will forward the names of 10 others involved in the violence to the police shortly.
two students named in the fir, anshu kumari and anshuman, are vice-president and general secretary of the patna university students' union (pusu) and they were attending the pusu panel meeting at the time of the incident.
though the police was very much present on the spot yet city sp jayant kant said no arrest has been made. the police is verifying the video footage and interrogating the eye witnesses.
it was only vc's bodyguard, who took out his pistol and raised it in the air. instantly, the attackers backed off.
meanwhile, patna university teachers' association will go on a token strike on march 11 to protest the incident.