patna, march 10 : after creating a world record in rice production, bihar could surpass punjab in wheat production, says an internationally reputed wheat-breeder, who is an associate of norman borlaug, the pioneer of india's green revolution.

"if the soil condition and water resources in bihar continue to remain satisfactory, it has better prospects than punjab to produce wheat," sanjay rajaram, who has trained more than 400 international scientists and authored or co-authored more than 400 scientific publications, told ians.
rajaram, who is credited with having developed 480 wheat varieties, said that bihar's farmers are not only hard working but also more innovative and experimental.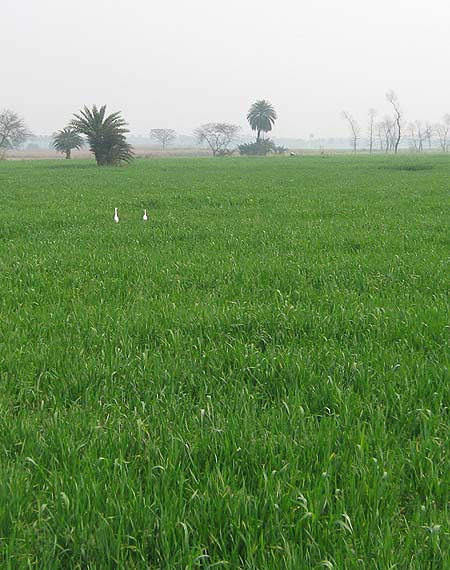 rajaram was in bihar to attend a programme at the bihar agriculture university, sabour, in bhagalpur district.

rajaram has received more than 80 awards nationally and internationally. he is a fellow of american society of agronomy, fellow of crop science society of america and recipient of the rank prize award, the friendship award and the padma shri. in december 2010, he was awarded the m.s. swaminathan award for leadership in agriculture by former president a.p.j. abdul kalam.

last year a farmer from bihar's nalanda district set a national record in organic wheat production.

surendra prasad of sarilchak village in nalanda, about 100 km from patna, produced 135.75 quintals of wheat per hectare using the sri (system of rice intensification) organic method. this has been certified by the union agriculture ministry and the state government.

meanwhile, another young farmer from the state last month challenged china's leading rice scientist, yuan longping, who questioned his claims of creating a world record by producing 224 quintals of paddy per hectare using the sri method in 2011. the indian council for agrcultural research has certified the record.

the chinese scientist suspected that the record was fake.

"i challenged yuan longping to visit my village and verify the facts before describing my world record as 120 percent fake," said sumant kumar of darveshpura village in nalanda.

in 2011, sumant kumar claimed to have produced 224 quintals of paddy per hectare, beating yuan longping's world record of 190 quintals per hectare.

sumant kumar said that not only had be beaten that record, he expected to better his own record this year.

"my paddy harvest this year would create a new world record. wait till the year-end," he said.

last week, yuan, known as the "father of rice" in china, said he doubted whether the indian government had properly verified sumant kumar's claim.

yuan, who was involved in introucing the sri system in china, said: "it could increase yields by 10-15 percent in low-yield fields, but it's not possible for fields that are already producing relatively high yields."

to go by the photographs of sumant kumar's field, yuan said the harvested plants appeared short and could not possibly produce high yields.

"good soil is the basis of high-yield rice," yuan was quoted as saying, asserting also that the soil where sumant kumar farmed was apparently inferior.

yuan also quoted sumant kumar as saying there was a lot of rain and little sunshine, but pointed out that a high yield was near impossible without adequate sunshine.