patna, (bihartimes): noted economic journalist, swaminathan s. anklesaria aiyar dropped a bombshell while delivering a lecture on "revisiting bihar-development journey so far" organized by asian development research institute (adri) in patna on tuesday.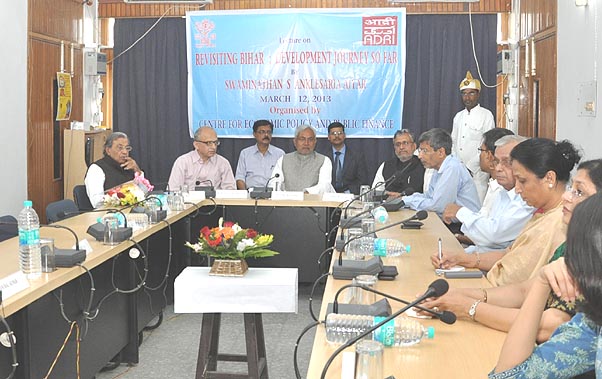 in the presence of bihar chief minister nitish kumar, deputy chief minister sushil kumar modi he said that bihar does not need any special category status.
his view upset the chief minister not just because the latter was there to hear something 'special' from the noted columnist but also the timing was not appropriate. swaminathan went on to say so just five days before the march 17 ramlila maidan (new delhi) rally on special category status for bihar. thus, in a way, he poured cold water into the janata dal (united)'s plan to make it a political issue.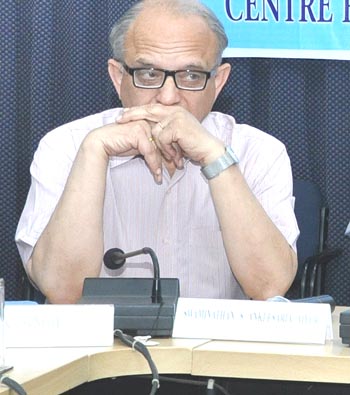 being very critical to the demand of special status to bihar, aiyer said "special category status to me sounds similar to nitishji's 'mahadalit' category. now all bimaru states are doing quite well." "you don't give steroids to champion athletes," he added further.
there was huge government presence in the lecture because like the last occasion (jan 2010) those present expected him to once again go all out in showering praise on the nitish kumar government. true he did appreciate some works done in bihar in the last few years in agriculture sector, road construction etc. yet he refused to toe the state government's line on special category status. incidentally, the host then too was adri.
swaminathan also prescribed that bihar should market sand deposited in the number of rivers flowing through it. "however, good policy can convert problems into opportunities. today biharis view sand as a problem. but it is also an opportunity, since sand is a minor mineral that has become scarce in the rest of india. bihar can become a major sand provider to other states" he said.
he also said that there should be shift from agriculture sector to tertiary and manufacturing sectors. states with shortage of land should switch over to service sector as it needs less land. "not only growth should be initiated in service sector but many more cities should come up by developing villages" he
added.
he said in modern era the role of successful cms is very important. "for last couple of years the country is being ruled by the chief ministers. in this regard he took the name of naveen patnaik, shivraj singh chauhan, etc but did not utter narendra modi––may be for obvious reason. he also discussed their models particularly of naveen patnaik. "he took the exemplary initiative to control corruption and didn't hesitate to sack 20 cabinet minister in one go. he empowered bureaucracy and got huge investment," swaminathan said.
he also discussed how another chief minister shivraj singh chouhan controlled corruption in his state and given flip to agriculture by way of constructing huge infrastructure particularly for procurement.
nitish kumar, who was present on the occasion could not resist to respond to aiyer and said "your view could be a personal view but we feel that bihar needs special status as its recent spectacular growth story couldn't be made a factor to dismiss the genuine demand for special status. the high growth rate is mainly due to narrow base and state needs special status to sustain it for a longer period."
though he appreciated swaminathan idea of marketing sand but thoroughly rejected his idea of extensive use of genetically modified seeds in the state.
later member-secretary of adri shaibal gupta and p p ghosh tried to counter swaminathan by arguing in favour of special category status turning this lecture into a debate on special status.
the chief minister said in p chidambaram's budget speech the state sees a ray of hope and added that the grant of special status was beneficial to states as it brought private investment since investors received tax-related incentives.
the debate became interesting as no political party in the state has taken another view on the issue.