new delhi, march 17 : bihar chief minister nitish kumar sunday brought his political fight to the national capital and demanded special status for his backward state, while laying bare his ambitions for a national role.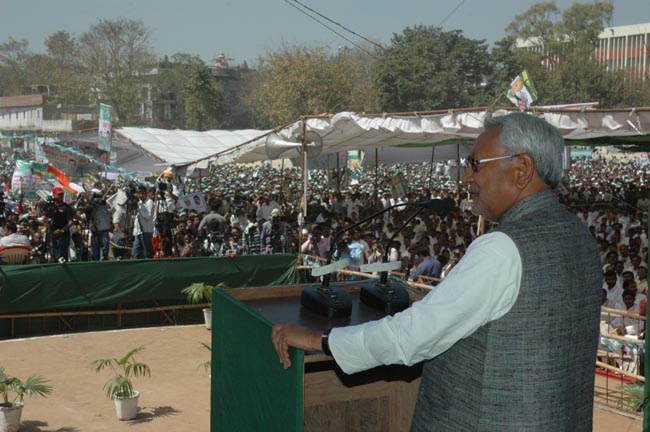 "change the criteria to give special status to bihar. we have been told that we do not meet all qualifications for getting special status," nitish kumar urged the central government while addressing a huge crowd of around a lakh people at his "adhikar rally" at the ramlila maidan here.

pitching himself for a national role ahead of the 2014 general elections, nitish kumar did not hide his prime ministerial ambitions, saying: "only those who understand the pain of the poor and the backward must rule delhi."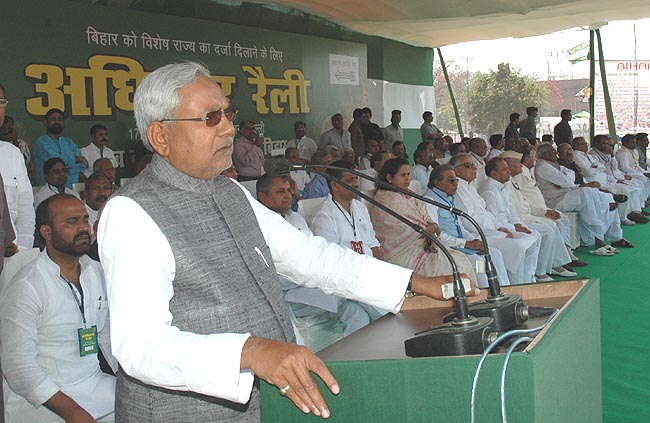 "bihar has been neglected. we are not begging for grants, it is our right. if you don't give it now, you will have to give it in 2014," he said, as if speaking to the government at the centre.

the chief minister said his demand would not only benefit bihar, but also other backward regions of the country.

"if backward regions start developing, it will push up the national growth rate. we want development for all," nitish kumar said.

he also referred to union finance minister p. chidambaram's budget 2013-14 speech in parliament, noting that it talked about the need to revisit the criteria for granting special category status to backward regions.

though it was his second rally over the special status issue, this was the first show of strength by the janata dal-united leader in delhi.

the rally is significant as it is a solo jd-u show with no traces of the bharatiya janata party, its ruling coalition partner in bihar.

"if you see the per capita income, we are just a little more than one-third of national per capita income and have the lowest per capita income. roads, railways, and other infrastructure are below average. the per capita expenditure for development is half of national average... all human development indices are lower," nitish kumar said.

"do we not have the right to develop, to generate employment in bihar? we have the right to development, we have been ignored," he said, playing on regional identity.

he said the criteria for giving special status to states should be changed so that bihar can develop.

"if we get special status, we can also become one of the developed states," he said.
(ians)