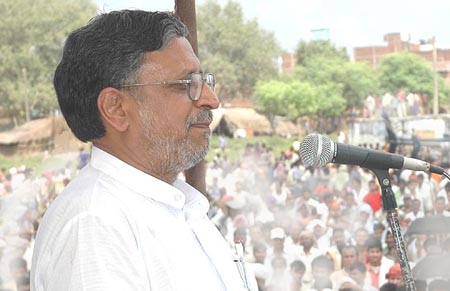 patna,(bihartimes): warning the bihar chief minister nitish kumar in no uncertain term, deputy chief minister sushil kumar modi on sunday directly blamed the media for creating differences with gujarat chief minister.
addressing the state executive meeting he said he had 35 years long relationship with narendra modi and it goes back to the abvp days. so there is no question of any differences.
in the process he hit out at chief minister nitish kumar by stating that those who would board the "sinking ship of the congress" would sink automatically.
he also said the state unit was ready to contest the 2014 lok sabha elections with gujarat chief minister narendra modi as the prime ministerial candidate.
the deputy chief minister told cadres not to be confused about his relationship with narendra modi. "i have 35-year-old personal relationship with narendra bhai and i will stay grounded to the party i was born and brought up in. not me, my body will go out of the party on my death."
the two-day state executive meeting tried to put up a united front. party leader arun jaitley had already called on workers to close their ranks.
with sushil modi coming out with categorical statement on sunday it now appears clear that bjp and janata dal (united) are heading for different directions.
earlier, last month when nitish kumar was lavishing praise on p chidambaram, the deputy chief minister strongly criticized the union budget.
speaking on the occasion patna sahib mp shatrughan sinha said: "namo (narendra modi) and sumo (sushil modi) are together." "our sumo is dabang."
the cine star said the bjp was capable of contesting the elections on its own strength and that too under the leadership of narendra modi.