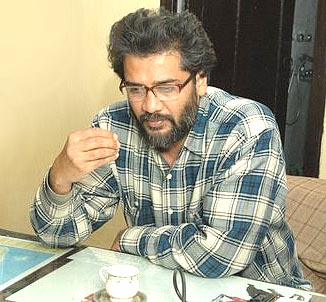 on march 17 nitish kumar held an impressive show of strength in delhi. while the rally was officially projected as a platform to raise the demand for special category status for bihar, and by implication for all states that have been victims of persistent socio-economic backwardness, it has come to be seen as a signal of a potential political realignment in the context of the forthcoming lok sabha elections. the rally talked of 'adhikar' (rights) but instead of outlining any agenda of struggle for securing it, it only hinted at political deals with the centre. nitish kumar had already voted for the upa nominee in presidential election and had praised chidambaram's budget and he followed up the rally with cordial meetings with the troika of manmohan singh, chidambaram and montek singh ahluwalia.
instead of speculating on the possibilities of political realignment, let us try and decode nitish kumar's rhetoric of 'adhikar' which has silently replaced his earlier 2005 keywords of 'nyay' (justice) and 'vikas' (development). in 2010 nitish kumar won an emphatic victory in bihar with the people of bihar asking him to deliver on his promise of 'nyay ke saath vikas' (development with justice). but as the government faces growing anger in bihar for its failure and betrayal on this front, nitish kumar cleverly wants to shift the agenda to the issue of special category status posing it as the panacea for all that ails bihar.
given bihar's reality of backwardness, the record of neglect shown by successive central governments and the insecurity and discrimination that bihari workers and students continue to face in different parts of india, the demand for special category status for bihar definitely has a rational basis and the cpi(ml) was the first organisation to raise this demand forcefully at the time of bihar's bifurcation in 2000. but while the slogans of 'nyay', 'vikas' and 'adhikar' are all unexceptionable, it is nitish kumar's opportunist politics which has turned all these lofty words virtually into their opposites for the overwhelming majority of people of bihar.
development in bihar, for instance, must begin with rapid agricultural development and that necessarily demands land redistribution and tenancy reforms and enhanced public investment in irrigation and agriculture. this is conspicuously absent in nitish kumar's paradigm of development, with the agenda of land reforms having been abandoned to appease the feudal forces.
likewise, justice in bihar has become completely skewed – the convicts of massacres are being systematically acquitted and criminals rewarded with government contracts and official patronage while the jails of bihar remain overcrowded with people from the very sections of society that nitish kumar seeks to lure with terms like mahadalit, ati-pichhda and pasmanda (dalits among dalits, extremely backward castes and backward muslims) even as muslim youth are being routinely harassed and persecuted as terror suspects. the police and bureaucracy have become a law unto themselves and only the other day the supreme court had to seek an explanation from the bihar government for the barbaric police repression on teachers protesting peacefully near the gate of bihar assembly.
the rhetoric of 'adhikar' has to be seen against this backdrop of growing denial of democracy within bihar. in nitish kumar's scheme of things, the question of bihar's 'adhikar' within india has been delinked from the question of the adhikar of the people of bihar within bihar. this became abundantly clear when during his adhikar yatra in 2012 the police and jd(u) goons came down heavily on contractual teachers demanding job security and wage parity even as the people everywhere confronted nitish kumar with their own demands forcing nitish kumar to abandon his yatra. subsequently, the huge turnout at cpi(ml)'s parivartan rally in patna on november 9 marked a fitting popular rebuff to the massive misuse of state machinery and resources for nitish kumar's 4 november adhikar rally.
it is significant that nitish kumar said not a word against corruption and corporate plunder in his 17 march delhi address. given the degree of corruption and corporate plunder written into the official strategy of development, any additional funds and tax or duty exemptions that bihar or for that matter any other backward state may get under special category status, are hardly likely to reach and benefit the people.
the example of odisha is quite relevant for bihar – under naveen patnaik, odisha is often praised as a model for the kind of development that nitish kumar preaches and promises. in terms of almost every indicator of socio-economic development odisha however jostles with bihar for the lowest rank even as the corporate giants and mining mafia make merry. after the separation of jharkhand, bihar may have lost the kind of mineral and forest resources that odisha has, but it has most fertile land and abundant water resources, and a corporate-driven corruption-ridden development trajectory will make bihar as vulnerable as odisha.
it is also significant that nitish kumar did not assert the fundamental right of every student or worker from bihar to study and work in any part of india, rather he legitimised the insult and humiliation that bihari migrants often have to face by arguing that thanks to his government's record of development the word 'bihari' no longer evokes any sense of shame! the rights of bihari migrants are fundamental and inalienable and must not be made dependent on the so-called media-manufactured image of bihar or the rate of growth of the economy in bihar. otherwise, special category status will become a handle to stigmatise bihar just as the beneficiaries of reservation often continue to be stigmatised by the arrogant champions of 'merit', 'excellence' and 'efficiency' who see these qualities as hereditary virtues that must remain an upper caste preserve.
for nitish kumar, the rhetoric of 'special category' status is an escape route for brushing aside the bitter reality of loot and injustice; bureaucratic highhandedness and police repression, and appeasement of feudal-communal forces that has become the hallmark of his regime within bihar. it is a political bailout package with the help of which he seeks to renegotiate his terms with the congress and the bjp. for the people of bihar, the battle against regional disparity, centre's neglect and chauvinistic violence is inseparable from their battle for democracy, development and dignity within bihar. and most importantly, the battle for bihar's 'adhikar' is inseparable from bihar's live and non-negotiable legacy of struggle for emancipation and transformation.
nitish kumar says 'special category status' is not a dole but a right but by delinking it from the all-india agenda and perspective of struggle against corruption and corporate plunder, he has already reduced it to just a bargaining chip. on 18 march 1974 the students of bihar had gheraoed the state assembly in patna and launched the great movement of 1974 against corruption and autocracy. four decades later, on 17-18 march 2013, a self-styled product of the 1974 movement was busy in delhi striking deals with the powers that be. bihar will surely not rest till it reaches its destination – new bihar in new india.
* general secretary, cpi(ml)