patna,(bihartimes): in yet another major reshuffle in the police, the state government on monday evening transferred 63 ips officers including the ssp of patna. besides, more than three dozen officers have been promoted.
the holi-eve transfer came as a surprise for the police headquarters as perhaps never such a shake up has been made just a day before the festival of colour when maintaining law and order is the main priority.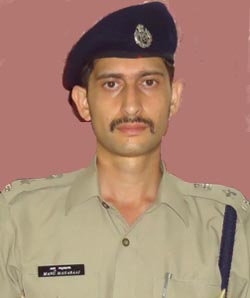 manu maharaj has been made the ssp of patna. in fact patna has witnessed a number of sps and ssps in the last few years. once patna city was even trifurcated into three. after patna, muzaffarpur saw major shake up.
manu maharaj will succeed amrit raj, who was made ssp after alok kumar was shifted only a year ago––after bihar diwas celebration last year.
manu maharaj had earlier served as sp of patna.
the superintendents of police (sps) of 26 districts, including two police districts, and rail sps of patna, katihar and muzaffarpur have been shifted.
vinod kumar chowdhary will be sp, gopalganj. asp, kharagpur, hariprasath s became sp (rural), patna.
the sps of bhagalpur, patna, bhojpur, purnia, arwal and kaimur have been promoted to the rank of dig. three dig-rank officers of 1995 batch have been promoted to ig rank while four sps of 1998 batch have been elevated to dig-rank.
all senior police officers of patna, (ig, ssp and rural sp) have been shifted. ig patna bhrigu srinivasan will be ig, training. dig (muzaffarpur) sushil khopade of 1995 batch, on promotion, became the ig, patna. patna ssp amrit raj has become dig, muzaffarpur.
dig (bettiah) pankaj darad has been promoted as ig, muzaffarpur. his batchmate and dig (saran), malar vizhi, on promotion, has been made ig (provision).

ig (rail) vinay kumar has been shifted to cid in place of shailesh kumar singh who will be ig (technical services and wireless). ig (budget) anupama nilekar chandra became ig (hq). the post was vacant since j s gangwar was made ig (darbhanga).

ig (darbhanga) sudhanshu kumar has been shifted to saran while dig (rail) zia-ul hasan khan will join technical services and wireless in the same capacity. dig (cid) vinod kumar will be dig (economic offence wing).

besides amrit raj, his 1998 batchmate m r naik, sp (bhojpur), on promotion, became dig (bettiah) while ssp, bhagalpur, k s anupam was made dig (rail) at patna. sp (purnia) amit lodha, on promotion, will be dig (cid).

sp (security, sb), anwar hussain, on promotion, will be dig (darbhanga) while sp (special branch) awdhesh kumar sharma has been promoted as dig, bmp (north division).

ajay kumar mishra, adc to governor, has been promoted to dig rank with additional charge of bmp (central division). sp (shrc) ram narain singh, on promotion, will be dig, homeguards. sp (special branch) pradip kumar srivastava, on promotion, has been made dig, vigilance bureau. sp (arwal) vimal kumar, on promotion, became dig, bihar police academy while sp, kaimur, uma shankar sudhanshu was promoted as dig (stf).
east champaran sp ganesh kumar and ssp gaya vinay kumar will swap their places. vaishali sp upendra kumar sinha has been shifted to patna as sp (rail), replacing s p chowdhary who became sp (vaishali).

sp (khagaria) mitthu prasad was shifted to cid while commandant, bmp-14, asghar imam would take charge of sp (katihar), replacing kim, who will be sp, purnia.
sp (rail), katihar, sukan paswan has been brought to special branch while aig (i) saurabh kumar became ssp (muzaffarpur). sp (supaul) vinod kumar-2 will be rail sp, muzaffarpur while muzaffarpur ssp rajesh kumar will go to bhagalpur in the same capacity.

sp (munger) p kannan became aig (q) in place of sunil kumar who will be sp (bagaha). kannan will also hold the additional charge of aig (i) and welfare.
sp (begusarai) chhatranil singh was shifted to bmp-14 as its commandant while naugachhia sp anand kumar singh will be arwal sp.
muzaffarpur rail sp shiv kumar jha, who also headed the sit to probe violence during the chief minister's visit to khagaria, has now been made sp, khagaria.

commandant, homeguards, shekhar kumar has been made sp, naugachia (police district) while aig, bmp, jitendra mishra will be katihar rail sp. wife of kannan and sp, lakhisarai, s premlata became commandant bmp-1, patna. sp (c, cid) pankaj kumar raj has been made commandant bmp-10 while ssp, darbhanga, garima mallik will be commandant, bmp 2, dehri-on-sone. commandant bmp-16, vivek kumar will now be siwan sp, replacing satyavir singh who will be sp, bhojpur.

satyavir's wife and sp, gopalganj, natasha guria will be the new commandant of mounted military police, ara. banka sp vikas burman will be the new ssp of rohtas. sp, jamui, upendra kumar sharma, will be ssp, darbhanga while sp, bagaha, pushkar anand, will be sp, banka.

asp, madhepura, himanshu shankar trivedi will take charge of sp, sheohar. asp purnia, dipak barnwal became new jamui sp while commandant, mmp, ara, rajesh tripathy has been posted with the ig, bmp. commandant, bmp-10, prakash nath mishra became commandant-cum-principal of cts, simultala. sp, economic offence unit, rajiv ranjan has been shifted to special branch (a).

jehanabad sp harpreet kaur has been appointed begusarai sp while sheohar sp navin chandra jha will be the new sp, munger.
asp, sikrahna, east champaran, sudhir kumar porika will be the new sp, supaul, while asp, masaurhi, dhurath sayali sawlaram will take charge from harpreet in jehanabad.

asp, patna city, chandan kumar khushwaha has been made commandant, bmp 16 while asp, munger (sadar), rajeev mishra became sp, lakhisarai.