27/03/2013
Nitish Kumar celebrates Holi
Patna, March 27 (IANS) Chief Minister Nitish Kumar, euphoric over the likely move of the central government to accord special status to Bihar, played Holi with party workers and people Wednesday and took pot shots at RJD leader Lalu Prasad.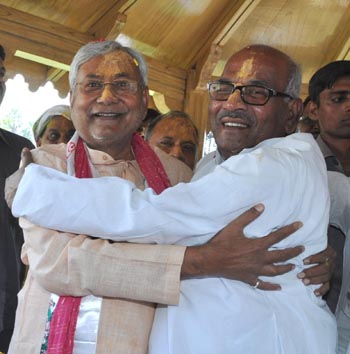 "I am more confident now that our demand for special category status to Bihar is near reality. It appears that our long fight for rights of Bihar will be fulfilled soon," said Nitish Kumar, who was surrounded by media persons and party leaders at his official residence here.

Taking pot shots at Rashtriya Janata Dal's Lalu Prasad who Tuesday alleged that Nitish Kumar does not have principles, the chief minister said: "I only want Bihar's development."

Nitish Kumar expressed his happiness over the central government now considering to accord special category status to Bihar.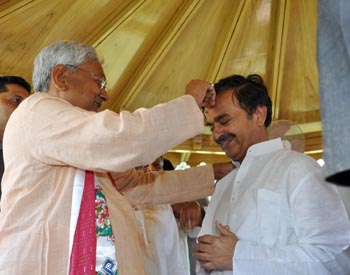 "Now the central government will have to fulfil the demand of special category status to Bihar. We are hopeful," he said.

Nitish Kumar celebrated Holi with party leaders with dry herbal colours. Holi will be celebrated in Bihar Thursday.

"Since morning Nitish Kumar greeted and accepted dry herbal colours from people and played with colours and flowers," Janata Dal (United) MP Shivanand Tiwari said.


Tiwari said that unlike former Bihar chief minister Lalu Prasad, who used to get drenched with coloured water and played 'kapraphar' Holi, Nitish Kumar is not fond of coloured water.

An official of the chief minister's residence told IANS that folk songs and music and traditional foods were the main attraction for people after playing Holi with Nitish Kumar.

"People enjoyed folk Holi songs and special traditional sweets and thandai (drink)," official said.

On the other hand, Lalu Prasad and his wife Rabri Devi, both former chief ministers of Bihar, were in Delhi where they celebrated Holi with their family members.

Lalu Prasad is known for playing particularly robust Holi -- literally tearing off the clothes of the participants during the festivities.

During their 15-year-long rule in Bihar, the couple would host big Holi parties every year, except the year when Lalu Prasad was in jail for his alleged involvement in the multi-million-rupee fodder scam in the late 1990s.