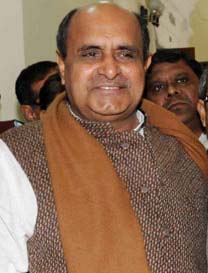 patna,(bihartimes): though it has repeatedly made granting of special category status a pre-condition for giving support to any alliance in future, janata dal-(united) now took a u-turn and made it clear that it has no plans to support the upa if the centre grants special status to bihar.
talking to the media in new delhi on thrusday afternoon party spokesman and general secretary k c tyagi said there is no question of any 'bargain' in the matter. jd(u) would welcome any move by the centre to grant special status to bihar, but it does not mean that the party would break out of the nda coalition.
tyagi, who is considered close to the party president sharad yadav said granting special status to bihar on the basis of its backwardness is not a matter of bargain. it is bihar's right and not a bargain. whether it is upa or nda, other backward states should also get such a status. it is the responsibility of the central government.
tyagi, who is from up, was elected to rajya sabha from bihar only last month, denied that his party was discussing any proposal to extend support to the upa government if special status is accorded to bihar.
if the upa government does grant special category status to bihar the state would welcome it. but jd(u) has no such proposal to support upa or congress in lieu of this, he added.
he said jd(u)'s support for upa candidate pranab mukherjee in the presidential election was an exception. jd(u)'s alliance partner the bjp had then supported the candidature of p a sangma.
tyagi said the party supported mukherjee on the basis of his seniority and capability in place of sangma. he said shiv sena too voted against nda candidate then, but this does not mean that both these parties are out of the national democratic alliance.
the party spokesman said his party would lend its support for any good decision or work done by the present dispensation in new delhi.
tyagi also said he has been nominated by his party to negotiate with the bjp over the issue of seat sharing during karnataka assembly polls in may.