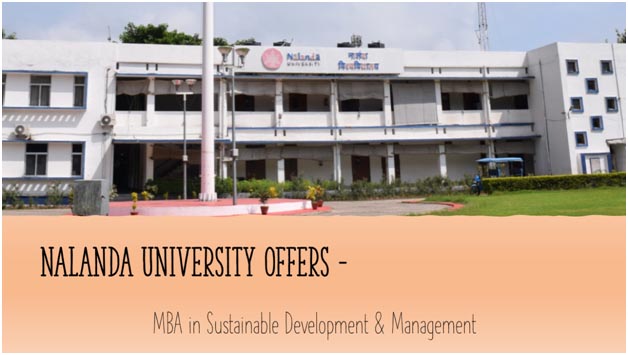 Lakhs of young aspirants want to do an MBA program from the top colleges or universities to have a bright future ahead. With Globalization and the COVID-19 pandemic, knowing the ethics and functioning of the business world is essential. To ensure that, Nalanda University presents the MBA in Sustainable Development & Management. The two years MBA course is available to both national and international students. This course offers some new areas of study like Blue Economy, New Renewable Resources, and many more. The candidates with good scores in CAT/ MAT/ XAT are eligible to apply here. Go through the entire blog to learn more about the University and the MBA program.
A Brief Note on The Nalanda University
Present in Rajgir(Bihar), Nalanda University is a research-oriented university offering several PG and PhD courses to students. The University, which came into existence in 1951, started its academic session in 2014. The MBA in Sustainable Development & Management helps students to develop innovative ideas. Nalanda University offers quality training to aspiring managers and executives who can bring a significant change in the business world.
In the future, the University aims to connect with leading Universities of the world to enhance the education level. The institute is open to foreign students having different educational backgrounds. This initiative is in tandem with its mission to become a knowledge hub of the 21st century.
What is an MBA in Sustainable Development & Management?
With the economies trying to adjust to the new normal, it has become imperative to bring significant changes in the education system. Nalanda University's School of Management aims to help students cope with the challenges in the future. Their new course MBA in Sustainable Development & Management helps the students in discovering a sustainable future for them.
Through this two years program, Nalanda University aims to offer quality training to future managers and executives. They will have a detailed insight into the current market trends. Along with that, one will learn ways to cope with the global challenges of sustainability. Some of the new electives offered by the course are -
New Renewable Resources
Integrated Water Resources Management
Sustainable Urbanization and Development
Agriculture and Development
Poverty and Sustainable Development
Culture, Philosophy and Aesthetics for Management
All these are new age electives out of which applicants can opt any four. The MBA program comprises 74 credits.
While pursuing this course at Nalanda University, the students will get hands-on experience. Students can participate in several internship programs, industrial visits, case studies, and other activities.
Main Features of this MBA program offered here
Students get training in an international learning environment.
Available to foreign nationals as well.
This program is available for working executives as well.
Students can exit the program after completing one year of studies.
Such students will receive a diploma certificate.
A lot of internships opportunities are provided to the students.
Students will get a chance to study and live at the residential campus, which is present on Rajgir hills
The focus is always on an interdisciplinary, solution-oriented approach at Nalanda University.
Students' critical thinking and skills will be highly appreciated here.
The MBA program includes experiential learning.
Nalanda University boasts of an internationally acclaimed faculty offering the best education to the students.
Students will get hands-on knowledge through industry visits, internship experience, community engagement, etc.
Seminars aimed to boost business communication skills among the students are held regularly.
More extensive elective options are on offer to students.
Eligibility Criteria to study this MBA program at Nalanda University
Admission to an MBA program offered by the University depends on the CAT/ MAT/ XAT scores. Students must have secured at least 70 percentile in any of the above-mentioned tests. Whereas, International students need to submit their GMAT scores.
Students need 55% or equivalent (for both domestic and international students) in a UG degree. Along with all these, a Self-Introduction and Statement of Purpose is necessary while applying. Applicants must also have at least five years of working experience along with good academics.
International students applying for this MBA at Nalanda University must produce any one of the below-mentioned documents.
TOEFL or IELTS scores.
Any other standard English test valid at an international level.
Either the above two or the applicants must have completed their studies (degree-level) in English.
MBA Tuition Fees
The Fees are 1,17,000 INR (First Year) and 1,05,000 INR (Second Year).The Fees include admission fees (single time), tuition fees, miscellaneous charges, etc. Residential, meals and other expenses are exclusive of the fees mentioned above. Students can apply online by submitting a Statement of Purpose, Self-Introductory note, and other documents.
Career Outcomes at Nalanda University
Post completion, students of MBA (SDSM) will have opportunities to work in Oil & Gas, Information Technology, Textile, Cement, Agribusiness, Environment and Education sectors. Some of the areas where they can utilize their skills are Sustainability, Environment, Health and Safety (EHS), CSR, Energy Consulting, Sustainability Consulting, Sustainability Reporting and Green Marketing. Students can also opt for Marketing, Finance, Operations, IT, and Consulting. Some entry-level Job Roles are:
Sustainability Manager or Consultant
Research analyst
Green Finance Manager
Financial Modelling Expert
Product or Brand Manager
CSR Manager
Project Manager
Business Associate
EHS Officer
The students aiming to pursue a new and innovative MBA program must take a look at this course offered by Nalanda University. The MBA course Nalanda University seeks to make a significant difference in the student's career during this pandemic.