Biharis of Bay Area, California, even though they are thousands of miles away from their beloved motherland, Bihar, still hold on dearly to their cultural and social heritage. They celebrate their festivals in traditional and communal manner. It helps them in strengthening local Bihari Community as well as providing educational, healthcare support, flood relief for people back home in Bihar, by raising money towards these noble causes.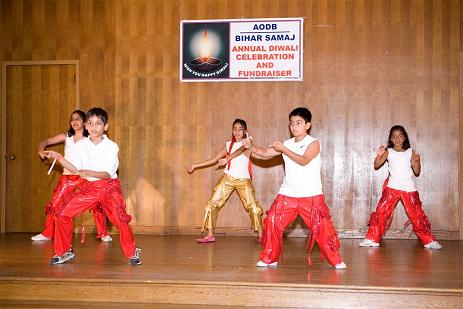 Recently, American Organization for Development of Bihar(AODB), a non profit, charitable & cultural organization of Bay Area and Bihar Samaj,an Indian-American social and cultural organization, held their Annual Diwali Celebration and fund raiser on 16th Nov, 2008 at Miltpitas Community Center, California, USA.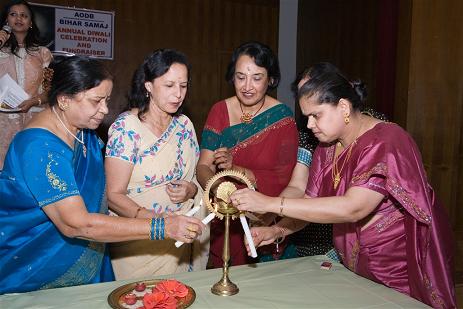 Program was inaugurated by lighting of Diyas by Saroj Varma,Chitra Kuwar,Veena Mishra. AODB president, Rajiv Sinha, welcomed the Bihari diaspora and gave a brief overview of accomplishments of AODB and its social and rural projects in Bihar. He appealed to the community to support Bihar by donating generously for ongoing projects.

Over 200 Bihari families and friends attended this cultural program which had various kind of attractions such as Gaata Rahe Mera Dil - Audio Visual Antakshari, Dances and Musical show.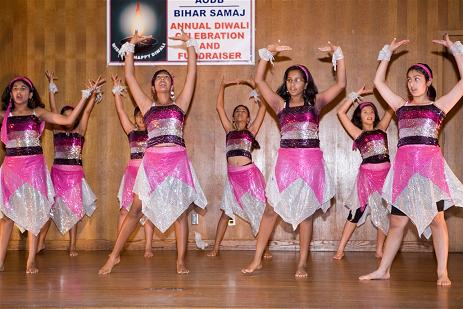 People enjoyed the dances performed by kids and various artistes. Biggest Draw of the evening was Gaata Rahe Mera Dil - Antakshari which was organized by Mayank Srivastava, Shatrughna, Sukhnandan, Saroj & Sunil. People enjoyed this program a lot and lustily cheered the participants on each and every occassion.
Prizes were given to all winners, runners-up as well as audience.

Founder Members, Past presidents of AODB and long time members like Bodh Kuwar,Gajendra Mishra, Ajay Das, JP Narain, ,Vinod Varma, Vas Chowdhary,Sanjay Kumar also attended this program.

Bodh Kuwar,Gajendra Mishra and Vas Chowdhry presented goals of AODB, its objectivs and accomplishments to the crowd of appreciative and supportive people.
They encouraged the audience to support present and running projectss and sponser new project in Bihar to support needy people.

Master of ceremony for the evening were Akshara Sinha and Sanjay Sen. Prashant kumar, vice president AODB, gave vote of thanks.

Suresh Roy of sksphotos.com , was the event photographer and videographer. Rajiv Sinha was the event coordinator.

Volunteers of AODB like, Vinita Kumar, Mayank Srivastava, Urvashi Singh, Shweta Singh, Anand Kishore, Sujeet,

Prashant,Manish, Archana Roy, Jyoti, Prabhat, Vishal Veda, Amitabh Sinha, Geetam Das, Chitra Kunwar, Saroj Varma, Radha Yadav, Veena Prasad, Veena Mishra, Richa Kamal, Shatrughana, Sunil, Saroj, Sukhnandan, Ajay Das, Pragya, Amit, Anand, Harsh, Shantanu, Rahul, Sheela Pasi and Shruti Srivastava played a key role in organizing the event.

Event was sponsored by Attorney Mahesh Bajoria, State Bank of India, San Jose,CA, Madhuban, SK Photos, desievite.com.
Rai Rajiv Kumar Sinha,
President AODB