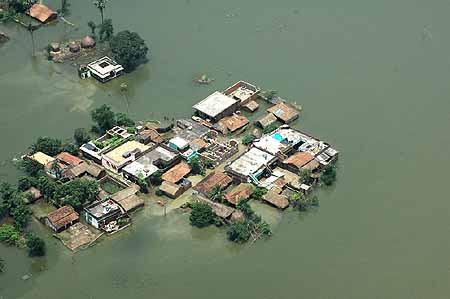 one of the greatest causes of the unstable polity of india is its disgusting regional disparities. bihar's case is even worse. it continues to suffer the excruciating pains of being colonized by its own people. india's powerful politics [of exploitation of bihar, at the hands of the national bourgeoisie in brutally visible connivance with the bihari (treacherous) compradors], is deeply entrenched. every year, bihar is visited by enormously tragic floods, caused mainly by baghmati and kosi, [not to say of few other rivers (kamla, gandak, lakhandei, etc.) also]. but the 'politicians of all hues continue to play their political games, often trading in the misery of the people'. in the name of distributing state patronage to the caste fellows, these leaders can exploit the state when in power, can paralyze the state through rallies, bandhs etc, when in opposition, and can mobilize huge mass gatherings on middle class issues (reservations in public employment). but none of them can resort to such kind of democratic politics when it comes to register protest against the anti bihar discrimination of the union government's planning commission. as if the people of bihar are expendable commodities. natural disaster, political corruption, bureaucratic inefficiency/subservience, academic apathy/ degeneration, and black-out by the media all seem to have developed a vested interest in forcing the people of bihar to migrate to other provinces where these pauperized people can be made easily available as a huge labour force at cheapest possible wages in the fields of punjab and in the construction industries of major urban centres of india. not to say of rickshaw pullers & domestic help. delhi can get huge funds for fly-overs to host commonwealth games, but flood ravaged hapless people of bihar have to bear with all these tyrannies because of sham cry of 'resource crunch'. criminal apathy of the media [and its 'tactful' management by nitish kumar, the hindutva ally] can be gauged by the fact that water logging near amitabh bachchan's residence, 'prateeksha', in mumbai, can draw the attention of the 24 hours news channels, but the biggest catastrophes of millions of suffering people of bihar fail to attract even the award winning tv news channels, shouting their competence in rapid (tez) gathering of news. most of these news channels inhumanly prefer to run the recorded/ live laughter shows [prime time of 7-10 p.m.] of frivolous jokes & black humours, often bordering on pornography. [anchored even by the parliamentarians of bjp- the 'party with a difference'].
this time (in august 2008), the river kosi has changed its course to follow the one which was two centuries back. the successive provincial governments have been willfully failing to take care of dilapidating embankments. none of the 'eminent' politicians of 'highly politicized' state of bihar mount any pressure on the union government to initiate a sincere diplomatic negotiation with nepal, where smaller dams could be built to contain recurrent floods. needless to say these small dams would also provide water for irrigation, & hydro electricity. it will not only boost the agricultural production but also large scale industrialization. yet, this simple but convincing solution is not allowed to become the central political issue of bihar. nehruvian model of development, due to its obsessive concern with heavy industries, at the criminal neglect of agriculture and land reforms, has exercised particularly great destructive effect on bihar. the 'babu sahebs' of the congress practised only caste /communal politics and nothing else. their caste fellows made huge money through corrupt means in various river projects, without solving flood & irrigation problems. the self-styled champion of secularism and social justice, laloo, the 'subaltern saheb', also chose not to go beyond certain limits. few other secular political formations have developed disgusting resemblance with other corrupt & degenerated political formations. their opportunistic political alliances in the name of secularism gave unprecedented rise to communalism in bihar to the extent of letting them grab power. the academia & media chose not to stir 'sub national nationalism' in the people of bihar, as they had to be kept pauperized & forced to constitute cheap labour for national bourgeoisie. the slave trade during the early days of western imperialism was effected with force, but the bihari compradors are ferociously 'genius' that they can do it quite covertly, where they can create a kind of situation & can practise the politics of development of underdevelopment, and compel the biharis to migrate. this migration is facilitated quite sincerely by providing train services to all such destinations which emerge as attractive centres of private investments. successive [bihari] ministers of railways continue to provide trains to 'newer' destinations [like indore, goa, bangalore etc.].
in fact, the hefty relief package meant for flood victims are siphoned off by the politicians of the day in connivance with the bureaucracy. rising bungalows, shining cars owned by: (a) the big bureaucrats and politicians in patna (& now in delhi as well), and (b) the petty bureaucrats/engineers and political brokers in district towns are the strongest evidences of their corruption. political-bureaucratic tyranny is evident by the fact that even the official announcement of cautioning people to vacate due to imminent peril of flood was suddenly stopped by the dm of one of the flood ravaged districts.
it must also be noted that the flood ravaged areas [kosi-baghmati belt] of bihar are populated mostly by the weaker sections (downtrodden castes of hindus and muslims). indian union can make available funds for development in the areas and sectors which benefit the chitpavan marathi brahmins, bhadralok bengali upper castes, namboodripads, reddys, but other social groups are just expendable commodities.
the federalism of the democratic republic of india is under great strain, making us understand some of the lesser known reasons for secessionism in parts of india. need of the hour is to see through this nasty politics of keeping bihar as india's internal colony, to expose [and raise the people's consciousness to the level of challenging] the status-quoist, corrupt politics. efforts to save bihar are the only guarantee of saving india. another round of struggle against this kind of colonialism, for robust federalism, can't be delayed any longer.
cory h amazon review
lecturer,
centre of advanced study in history,
amu, aligarh