A flood of tears…. as the river of sorrow Kosi swallows 1598 villages and some 2.7 million people are marooned, officially 12 days after the disaster only 200,000 persons have been rescued to safety.

The above figures are from the National Disaster Management which has woken up to the tragedy after 11 days and only after India's Prime Minister Dr. Manmohan Singh declared the floods a national calamity offering a thousand crores for flood and relief work.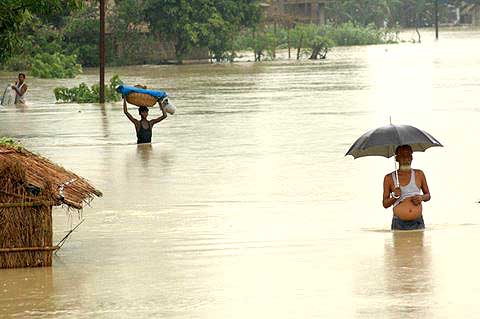 If you've been watching television you would perhaps not have seen such a human tragedy for basic survival before ….victims carry a single box on their heads and wade through water without food or water and while they walk you can even see a tear in their eye.
And soon after the floods being declared a national calamity, only yesterday a large advertisment in a national newspaper announced the chief minister's main program of the day…a Khel Yojna program for sportspersons perhaps competing with India's President Pratibha Patil who had her own program for sports awardees in New Delhi.

So while Nitish says its pralaya, Ram Vilas Paswan says its Mahapralaya and Laloo says it's a Tsunami!

But only 1491 boats are taking people to safety and for Bihar's politicians its business as usual.

On live TV the distress shows when people call up and say they are being robbed in the middle of a swollen Kosi by dacoits!

Even after an all-party meeting they are not telling their people why they have failed.

So I tried to find out.

And this is what I have found.

I wondered why in such a flood no television channel or newspaper reporter is questioning Bihar's water resources minister Vijayendra Yadav.

Bihar faces a paralaya, mahapralaya or Tsunami not just because of the embankments perennial neglect but also because this time the job of repairing the embankment was given to a Ganpat Yadav from Tulapatti in Supaul. And he did not do his job.But no action was taken against Ganpat Yadav because Ganpat Yadav is related to Bihar's Water Resources Minister Vijayendra Yadav.Says Chandan, a resident of Madhepura, "We know that Ganpat Yadav was given the contract to repair the embankment between 12.30 to 12.90 near the Bhimnagar Barrage and that's the embankment that collapsed.

"The work should have been completed latest by May when the water discharge is low in the Kosi but he did not do it and only on August 16, two days before disaster struck, he files an FIR in Supaul saying the Nepalese have prevented him from repairing the embankment."

He says, "Now Supaul is 80 kms away from the place of occurrence. He should have filed a case at Birpur police station which is just 10 kms away from the place of occurrence at Kusaha."

In fact, on the first day the break in the embankment was only 60 metres, on the second day it was 600 metres and now its 2 kms wide and its moving steadily towards the Kosi barrage, only 7 kms away.

And why did it happen? Perhaps, the silt deposits were so high at the barrage that the pressure on the embankments before the dam grew over the years.

The river Kosi shifts 120 kms and floods heavily populated districts in Bihar in the middle of the night.

But I am still trying to find out what is a national calamity?

On the government of India's website, there is no urgency..just another statement on the floods from the PM.

But on Congress Party's official website there is just Sonia Gandhi and her interviews with Barkha Dutt, Rajdeep Sardesai etc, etc..why she does not want to be India's PM.

On the BJP website, L.K. Advani, the leader of the opposition's statement demanding that Bihar's floods be declared a national calamity and how even floods in Assam and the north-east should be on the national agenda for a permanent solution.

Mr. Advani praises the NDA chief minister Nitish Kumar and deputy Sushil Kumar Modi.

So we know why the PM-in-waiting has still not visited Bihar.

The JD (U) does not have a website.

And like all things unofficial…Laloo's RJD has an unofficial wbsite with official addresses and telephone numbers of RJD leaders.

Shiv Sena's website is under construction, while Raj is busy looking for Marathi names for lingerie shops in Mumbai.

It takes India's PM 11 days to decide Bihar's floods are a national calamity.


Will it also take him so many days to declare war if attacked by Pakistan?

So it takes 11 days for this national calamity to become headline news.

The Times of India, Hindustan Times, The Hindu all finally got the PM's nod for giving Bihar their front pages.

Indian Express did not have Bihar on their front pages at least not on the internet edition that I saw.

And The Telegraph from Calcutta had Singur..while The Statesman had a story on Rahul Gandhi wiping dust from his grandfather, Firoz Gandhi's, grave in Allahabad.

NDTV 24/7 had Burkha Dutt anchored the 9 p.m. news and the terrorist hold-up in Jammu was her main story.

NDTV profit had Singur where top industrialists like Ambani, Godrej and Birla support the Tata's in Singur, and the anchor even agreed with them.

Hindi channels had floods but with more music and drama, not leaving any scope for Prakash Jha to make a film.

But within a day…all reporters have become astrologers with Shani entering God Knows where?
Blame it all on Shani or the system..
I completely agree with your allegations.

This is such a tragedy. And the sad part is that it did not have to happen; after it did, there was enough time to evacuate the area but everyone has been sitting on it to get political mileage.
You cannot compare it to the tsunami. That event happened so suddenly that no one had the time to react. Noticing the government's lacklusture attitude in Bihar, its not time we need but the will!
Mitesh
kumar.mitesh@gmail.com
------------------------------
Really it is rightly marked that the most of the media cover the news of Bihar calamity as usual and normal.
They have not clarified the magnitude of devastation and toll with right reason. I am in Chennai and all people here say it is not unusual but it is annual happening.
I can recall the incident of Gujarat earthquake where whole India shivered and all contributed and prays for the Guajarati goodness.
Our Bihar grim is not lesser than that earthquake. Earthquake came and gone but this problem is persisting and increasing in unusual way.
Here I don't mean that Gujarati person has not suffered.
Media should cover the actual news. It should not discriminate the region.
Anil Kumar
Chennai
Anil_C_Kumar@gap.com
-----------------------------------------------------------------
I am deeply moved by the situation of my motherland.My own village is a victim of this catastrophe.
And I totally agree with your allegations against politicians and media ppl.Media ppl got up from sleep after more than 10 days.This is all because of the mentality of common ppl which has been made by our great politicians in course of time.Ppl have started taking Bihar for granted.Its ridiculous to see that such a huge devastation took 10 days for media to grow up and put them their headlines.I know the real situation because I know that there are almost 15-20 villages around mine,which are completely submerged.And the claim of govt that only 60-70 ppl have died is totally ridiculous.Its much more(may be more than 2000).
Harsh vardhan
harsh.vardhan@oracle.com