a postal stamp issued on bhojpuria.com's sudhir kumar

last month, the entire bhojpuri film industry was shocked, when we came up with the news that the dutch postal stamp issued on bhojpuri superstar manoj tiwari is not actually an official stamp – but a personalized one, which can be made by anyone after paying some price to tnt post (the private agency, which works as the postal department in holland (netherlands). reacting to this news, manoj tiwari - in his column in a hindi daily in mumbai (and in a film magazine) - blamed bhojpuria.com as a website being run by a friend of ravi kishan. he even tried to question the credibility of the website...

"by the help of ravi kishan, some people are trying to defame me... this stamp is an official one and not the purchased one. two indian names were put forward for the honour - musician pandit hari prasad chaurasia and mine - the fact that i was chosen over a man of such stature and seniority fills me with both pride and humility," manoj told a news agency. he even challenged media that if any other indian gets this stamp, he will leave the film industry.

now, to the worst of manoj's imagination, bhojpuria.com has been successful in getting a similar stamp with the photo of its director sudhir kumar. other than the photograph, the stamp is same.

"we were pretty shocked by the allegations of manoj tiwari. we requested our visitors to help us prove our point, and one of our visitors from netherlands – helga kommers - had posted the stamps to us in an envelope with my stamp on it," said sudhir kumar, director of bhojpuria.com.

"it is pretty easy to have this kind of stamp made online with any photo on it, and it costs rs. 600 (9 euro) only. but, this facility is available only for the residents of netherlands," added kumar.

how come manoj tiwari got it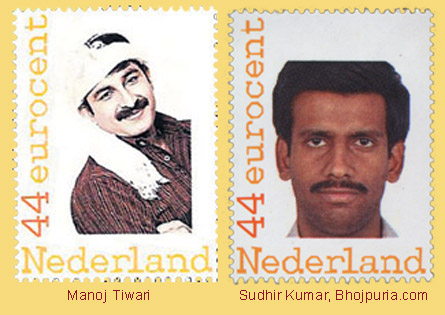 as per a close associate of tiwari, he was in touch with a netherlands resident (arun), who made this stamp for him in return to some personal benefit (?). after that, manoj used his stardom to encash this "honour" (?) to the fullest extent. arun has been reportedly left india, on the same day, when this news broke up.

what next...

now, since manoj is caught, will he leave the film industry, as he challenged??? of course it will be a big loss for the bhojpuri film industry, and we do not want him to do so… but what about the claims he made about pt. hari prasad chaurasia - hence defaming him – will he forgive him?

what about the false claims he (and his associates) made to the governor of bihar? will bihar government forgive him for the same? "you are invited to the felicitation ceremony of manoj tiwari, on the occasion of getting an official stamp by the netherlands govt," was written on the invitation letter of the programme of "bhojpuri viswa", in which the governor felicitated tiwari.

also, is it so easy for anyone to fool media to use it in his favor? a noted english daily wrote an editorial on this honour(?), and everyone knows that, how the same editorial was used in media to prove the point... and to get more publicity.

will the people of netherlands forgive him for using the name of their queen (and govt) just to prove a false point? the people over there are not happy over all these, suggests a bhojpuria.com survey.

should we forget that how he tried to defame bhojpuria.com, on this issue?

don't you think that manoj tiwari had tried to defame the image of bhojpuria society by this shameful act? don't you think, this incident will give yet another reason of non-trust to our enemies in assam & maharastra?

several more similar questions are there, which needs to be answered by manoj tiwari only.
how to send a review request for amazon and default to 5 star

is it better for a reviewer to have 5 star reviews on amazon products
£30 in Free Bets and £10 in Free Spins (50x20p) credited within 10 hours of bet settlement. Choose between Total Combined Stake and Stake per Bet options to calculate your total outlay, make sure you stay within your limit, and even view alternative bets that might offer better returns on your initial stake and selections.