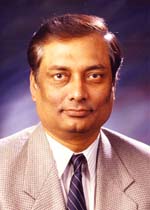 Dr. Mohan Roy, famous Cardiac Thoraces surgeon from Orange count passed away at a young age of 65.. The news has shocked the community in California and Bihar.
Dr Roy was on the American Board of Surgery, Thoracic Surgery, FRCS Edinburgh, FRCS Canada, Ohio, Florida and California state medical board.
He was Fellow of American college of Surgeons, College of Cardiology, College of Chest Physicians, Edinburgh, Canada and Fellow - International College of Surgeons.
He was the early pioneer of performing bloodless heart surgery.
Having graduated with top rank in Intermediate examination, he joined Bihar Institute of Technology, Sindri to study engineering. Hardly two weeks had passed, he decided to pursue Medicine instead and joined Darbhanga Medical College.
Dr. Mohan Roy married Dr. Vimal Yadav and had two children Mona and Ashok. Both the children are now very successful medical doctors in USA.
Dr. Mohan Roy was a year senior to me in Darbhanga Medical College. Though we were not friends but we knew each other and got on very well. He qualified in 1966 and I qualified in 1967. Soon after qualifying, he emigrated to USA and I emigrated to UK. He was a brilliant student, secured many honours in MBBS. A very polite, humble and soft spoken man, he behaved with dignity and was well respected. He kept out of student politics and limelight. He was never a "Hero" as some of us pretended to be during our time. He married Vimal Yadav, one of his classmate.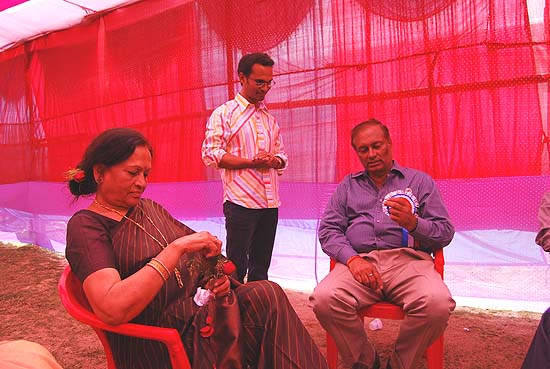 Forty years later, we both attended Old Boys Meet and Foundation Day function on 23rd and 24th February, 2009 at Darbhanga. He was accompanied by his wife Dr. Vimal Roy. We all stayed at Rambagh Palace Hotel. On 22nd. evening, we all three had dinner together, exchanging many fond old memories. A gate was erected in his honour. He, along with me, was honoured by our Alma mater on 23rd. February. Then I and his wife told each other about our last forty years. On 24th. February, Old Boys organisers asked him for donation. He asked his wife to write a cheque of Rupees Two Hundred Thousand. I was asked for two boats for flood relief work. But Dr. Roy stopped me from donating, until a committee is formed, responsible for care and maintenance of the boat. He cited the example of a high school he built in Purnia. Crooks and criminals levied "Rangdaari Tax" on teachers, who left following harassment, and so student left as there were no teacher. The empty school was duly occupied by the same criminals. Dr. Roy had failed to form a governing body to run the school. He categorically told me, "No committee, No boat".

When we parted, we promised to attend again in 2010. I never imagined that this was going to be our last meeting. Having met after forty years and spent two days together, I find it virtually impossible to accept that he is no more. And my heart goes out to his wife, who will be leading most lonely life from now on; and what this loneliness is, only I know, having lost my wife twelve years ago. I will always cherish my two days spent in his company.
May God rest his soul in peace.
Dr. A. Kumar
Norfolk, England
ajk305@yahoo.co.uk
-----------------------------------------

Plese refer to the news about the death of Dr Mohan RoyFRCS,65 in California.It was a shocking news.He was not only a genious doctor but a great Bihari Indian –American.May his soul rest in peace.We wish his children the best of success and long life.
Dhirendra Singh
dp.dhirendra@gmail.com