Objectives of Students' Unions/ Movements

In Bihar how a BJP leader assaults a senior journalist and simply gets away with it !
Iyengar: a doyen among scientists
Dr. K S Parthasarathy
Abla Jeevan Hai Teree Yahee kahanee…
Cuckoo Choudhary
BT special
Bihar Needs Eastern Economic Corridor
AMU , plays into nitish's hands
Changing Face of Agriculture in Bihar
| | |
| --- | --- |
| | The Reverse Journey |
Corruption in the Era of Corporate Governance
The Spectacle of Anna Unlimited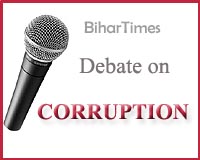 Bihar Times has decided to post real case study of hardships and challenges faced by entrepreneurs and common citizens of Bihar. You may send your story to us...
Anna act will put politicians under public scrutiny
Pakistani cinema finally taking shape: Actress Humaima Malick
Jan Lokpal Bill versus Govt. Lokpal Bill
Chewing tobacco joins 'banned foods' as oral cancer cases rise
Mass Movement for Corruption in India
How the world sees Historian Sharma
Awake, Arise or be Forever Fallen
(BT Exclusive) Rural Bihar witnesses highest inflation rate in India .
(BT Exclusive) Have heard of Chief Secretary rectifying his mistakes after submitting report to CM?
Pleasing the piper
Rising Crime in Bihar : Petty Criminals and Lower Police are Perhaps the Real Problem
STRANGE NEWS FROM ANOTHER LAND
( BT Exclusive ) Thanks to Bihar govt, Urdu dailies circulation rising only on paper
When Ganga meets Hoogly
Educational Concerns of the Muzaffarpur Muslims
Educational Initiatives of the Jamshedpur Muslims
Forbesganj Killings and Anti Pasmanda Rhetorics
Muslim Pride at all Costs Crime, Politics, Religion in a North Bihar Village
Don't Ignore the 'Obviouses' in Planning Process
( BT Exclusive ) Rs 28.47 crore spent on Govt. advt in Bihar last year