Won

NDA=31

BJP-22, LJP-6,RLSP-3

UPA=7

(RJD-3, INC-2, NCP-1)

JD(U)-2,

Others=0

BJP

22

RLSP

3

LJP

6

RJD

4

INC

2

NCP

1

JDU

2

Total

40
| | |
| --- | --- |
| Party | Vote % |
| BJP | 29.4 |
| RJD | 20.1 |
| JD(U) | 15.8 |
| INC | 8.4 |
| LJP | 6.4 |
| IND | 4.3 |
| BLSP | 3.0 |
| BSP | 2.1 |
| CPI(ML)L | 1.3 |
| NCP | 1.2 |
| CPI | 1.2 |
| AAAP | 0.9 |
Candidate

1
Araria

TASLIMUDDIN

2
Arrah

R K SINGH

3
Aurangabad

SUSHIL KUMAR SINGH

4
Banka

JAI PRAKASH NARAYAN YADAV

5
Begusarai

BHOLA SINGH

6
Bhagalpur

BULO MANDAL

7
Buxar

ASHWINI CHAUBE

8
Darbhanga

KIRTI AZAD

9
Gaya

HARI MANJHI

10
Gopalganj

JANAK RAM

11
Hajipur

RAMVILAS PASWAN

12
Jamui

CHIRAG PASWAN

13
Jehanabad

DR. ARUN KUMAR

14
Jhanjharpur

VIRENDRA K CHAUDHARY

15
Karakat

UPENDRA KUSHWAHA

16
Katihar

TARIQ ANWAR

17
Khagaria

M. A KAISER

18
Kishanganj

ASHRARUL HAQUE

19
Madhepura

PAPPU YADAV

20
Madhubani

HUKUMDEV NARAYAN YADAV

21
Maharajganj

JANARDAN SINGH
"SIGRIWAL",

22
Munger

VEENA DEVI

23
Muzaffarpur

AJAY NISHAD

24
Nalanda

KAUSHLENDRA KUMAR

25
Nawada

GIRIRAJ SINGH

26
Paschim Champaran

SANJAY JAISWAL

27
Pataliputra

RAM KRIPAL YADAV

28
Patna Sahib

SHATRUGHANA SINHA

29
Purnia

SANTOSH KUMAR

30
Purvi Champaran

RADHAMOHAN SINGH

31
Samastipur

RAM CHANDRA PASWAN

32
Saran

RAJIV PRATAP RUDY

33
Sasaram

CHHEDI PASWAN

34
Sheohar

RAMA DEVI

35
Sitamarhi

RAMKUMAR SHARMA

36
Siwan

OMPRAKASH YADAV

37
Supaul

RANJEETA RANJAN

38
Ujiarpur

NITYANAND RAI

39
Vaishali

RAMA SINGH

40
Valmiki Nagar

SATISH CHANDRA DUDEY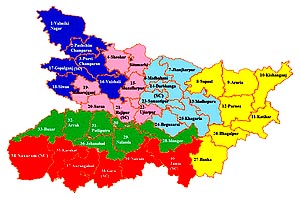 Was SuMo's statement on JD(U) MLAs ill-timed?
The bahubalis' way of empowering women in Bihar
But is Sharad above caste politics?
Nitish&rs quo;s over-bashing by the media: How fair?
Sai will help me win, says 93-year-old political veteran
Bihar village sans campaign ahead of polling
Weak candidates in several premier Bihar constituencies
Voters are more mature than Bukhari, feels many Muslims
Imam Bukhari's job to lead congregational prayers, not politics
Jamui: From the battle of bullets to battle of ballots
Aurangabad: The generational war between Rajput political overlords goes on
Election 2014: Family members against one another
BJP's 'shehzadas' list runs long
NaMo's Patna and Gaya rallies: A study in contrast
BJP forced to rearrange around new power centre
Jaswant says BJP will suffer due to strife
Can Modi strike a bargain of decency on Varanasi?
Kejriwal will take on Modi in Varanasi: Manish Sisodia
Will general elections disrupt the commerce of films?